FEF is currently accepting applications for FREE Summer Code and Arts+Tech+Sports Camps for underserved Gibsonton, Northwest Miami-Dade, Wimauma and virtual Florida students who will be in grades 4 through 12 during the 2021-2022 school here.
Apply Now.
For summer 2021, FEF will host live camps that offer fun, hands-on, project-based exploration of web design, artificial intelligence, mobile app development, game design, and/or careers,
In Summer Camps, students learn to code, reinforce grade-level academic skills, and consider exciting careers, all under the guidance of certified teachers,
FEF
's computer science Ph.D. Fellows, and career mentors.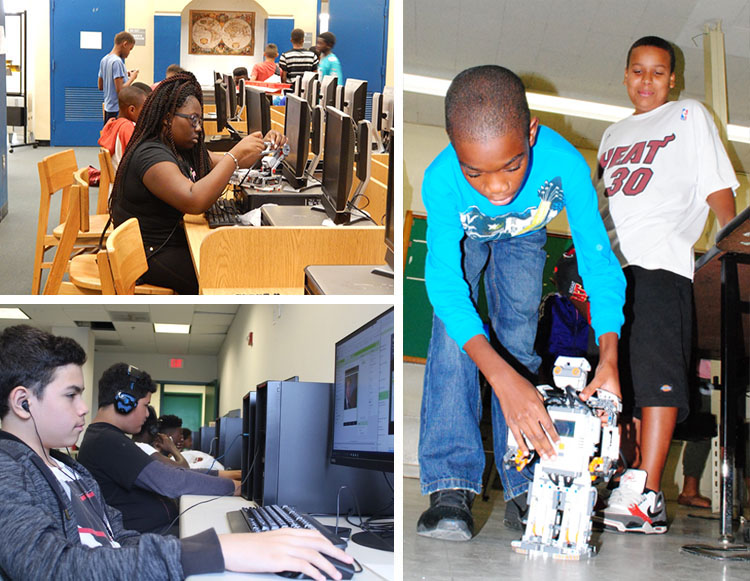 Web Design:
Did you know that every single web page on the Internet is built with a language called "HTML?" In this class, students learn the basics of HTML, CSS and JavaScript, the building blocks of the web, and begin to design and develop their own web sites.
Artificial Intelligence:
Are programmers developing Artificial Intelligence (AI) applications that will replace the job of someone you know? In this class, students learn how to build their own applications with AI and machine learning. They craft programs that train their computers to mimic human intelligence in image recognition.
Mobile App Development:
How often do you swipe and tap your way through your favorite mobile apps? This class teaches students to create their own! They learn the fundamentals of computer programming and mobile app development as they design and build their own apps to run on smartphones or tablets.
NOTE:
Students need an Android phone or tablet to test the apps they develop in this class.
Game Design:
How much time do you spend playing video games? Students leave this class knowing how to create their own! They learn the fundamentals of computer programming and game design as they create their own 2-D video games.
Academic Support:
Students review the math, language arts and other concepts and skills they should have learned by the end of the school year.
Career Exploration:
Do you know what it takes to become a web designer, teacher, doctor, or engineer? Students talk with professionals from a variety of career fields to learn how they can prepare to do what they do.
Questions?
Please contact Monica Montes at 813-272-2772 or
Monica @ FEF
.
---