2019 McKnight Mid-Year

Research and Writing Conference
Friday-Saturday, February 22-23, 2019
Tampa Airport Marriott Hotel
Tampa International Airport
Tampa, FL 33607
(813) 879-5751

• Click here to register for the Conference now.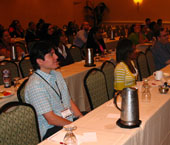 THE CONFERENCE

The Mid-Year Research and Writing Conference
aims not only to help Fellows improve writing, research, and presentation skills, but also to facilitate the timely completion of their dissertations.

Fellows present their research as well as articles submitted for publication in the FEF Journal of Interdisciplinary Research and then receive peer and professional reviews to help finalize their submissions.
Fellows also participate in workshops and seminars focusing on preparing for comprehensive examinations and developing, researching and writing dissertations.
REGISTRATION FEE
There is no registration fee for matriculating McKnight Doctoral, Dissertation or Junior Faculty Fellows. All other attendees must pay a $65.00 conference registration fee due by February 8, 2019.
CANCELLATION FEE

All conference cancellations made by any attendees (matriculating Fellows or otherwise) after Feb. 15, 2019, are subject to a $65.00 conference cancellation fee.

All NO SHOWS are subject to this cancellation fee. NO EXCEPTIONS.
Room cancellations made after
February 15, 2019
, are subject to a $75.00 room cancellation fee for a shared room. NO
EXCEPTIONS.
LODGING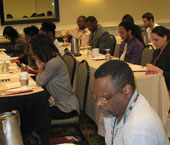 Lodging for matriculating McKnight Fellows is provided by FEF - DOUBLE OCCUPANCY ONLY.
Matriculating students who choose single room accommodations
must provide a credit card upon check-in.

The Conference room rates are $149/single or double per night.
To lessen your financial burden, after the Conference, all matriculating McKnight Fellows (ONLY) who reserve a single room, will receive a reimbursement check in the amount of $65. To obtain a reimbursement, please submit your request on the Official reimbursement form with the ORIGINAL hotel bill attached. Note that all requests for reimbursement must be submitted by March 29, 2019. No exceptions.
All other attendees (non-matriculating students) must register with the FEF to be placed on the rooming list prior to February 8, 2019, to ensure best hotel accommodations.
Room cancellations made after February 15, 2019, and NO SHOWS are subject to a $75 room cancellation fee for a shared room.
DIRECTIONS

The hotel is located in Tampa, Florida, at the Tampa International Airport. Please utilize www.mapquest.com, maps.yahoo.com, or some other direction provider for door-to-door directions. This printout must be included with your reimbursement form.
TRANSPORTATION (MATRICULATING FELLOWS ONLY)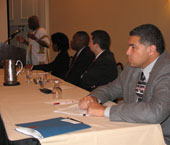 Important: The FEF will pay ONLY the LOWER OF either a discounted air ticket, compact rental car with unlimited mileage, or mileage to and from the Conference as verified by the State of Florida Department of Transportation/Transportation Statistics Office Highway Mileage Chart and/or www.mapquest.com. Any expenses above and beyond the least expensive method of travel will not be covered by FEF. Air travel should be booked at least 2 weeks prior to flight time. Reimbursable rental cars require pre-approval by the FEF.
Original travel-related receipts are required for applicable reimbursement. Please note the reimbursement due date of March 29, 2019.
CONFERENCE DEADLINE DATES

| | |
| --- | --- |
| February 8, 2019 | All conference registration documents due in FEF office. |
| February 8, 2019 | All conference related lodging reservations must be made. |
| March 29, 2019 | Conference reimbursement forms with original receipts must be submitted to the FEF. |
INQUIRIES

The Florida Education Fund
201 E. Kennedy Boulevard
Suite 1525
Tampa, FL 33602
(813) 272-2772
Fax (813) 272-2784, cjackson@fefonline.org